New data from IHS Markit, the London-based information services company, shows the global TV market moving rapidly toward larger screen sizes, which will help boost adoption of 4K and 8K TVs.
Screen sizes 55 inches and larger, in particular, are projected to increase steadily through 2022, exceeding 80 million units worldwide, while screen sizes less than 40 inches experience a steady decline, dipping below 60 million units by 2022, as shown in the chart above.
By the end of 2019, 4K/Ultra HD TVs are expected to account for more than half of global TV shipments and more than 75% of TVs with screens 40 inches and larger will be 4K. Market penetration of 4K sets is projected to reach 45% in 2018 and increase steadily to 61% by 2022 as shown in the chart below.
As for 8K, which is just now starting to trickle into the market, IHS Markit predicts a steady build between 2019 and 2022 with unit sales more than quadrupling between 2019 and 2020 as prices fall and topping 5 million units in 2022, as shown in the chart below. China will account for nearly three-quarters (70%) of 8K unit sales followed by North America with 15% and Western Europe with 7%.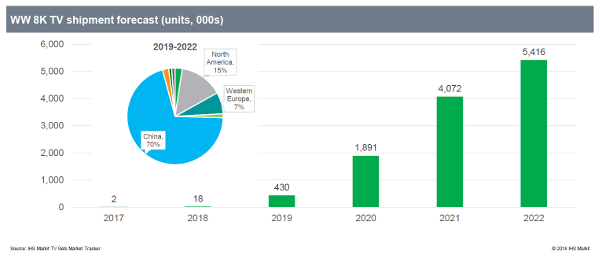 During the same period, IHS Markit sees sales of sets with advanced TV technologies such as high-dynamic range (HDR) and wide color gamut (WCG) growing steadily worldwide with the number of HDR-enabled TVs exceeding 30 million units by 2022, as shown in the chart below. WCG-capable LCD and OLED sets will also see steady growth through 2022.